Lucy Lawless on
"Celebrity Duets"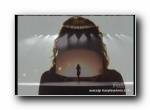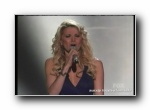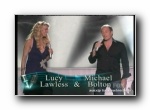 Episode #1
(Week 1 - Part 1)

"I might crash & burn, but to work with these people, to sing a song with
them - I could not turn down this opportunity." Lucy Lawless, week 1.

It's finally here, it's finally here!! Gods, it feels like we have been
waiting forever for Celebrity Duets to start. The chance to see Lucy not
once, but twice every week for 5 weeks was almost too much to think about.
Not only were we getting to hear Lucy sing each week but we were going to
get to see Lucy BE Lucy and all her fans know just how much fun that can be!

At the start of the show, each celebrity is introduced & Lucy is referred to
as the former Xena: Warrior Princess, followed by a huge roar from the crowd
. Lucy is going to be singing first up and all my anticipation is replaced
by nerves.

Our first view of Lucy is as a beautiful side-on silhouette. Arm held
gracefully skyward, head slightly back, hair flowing over her shoulders,
body slim, legs long, beautifully feminine. She immediately made me think
that this is what a statue of Aphrodite should look like. Now if this
initial image of Lucy doesn't grab your attention, nothing will.

Lucy turns to the audience & starts to sing. The song is 'Time Love &
Tenderness'. Her voice is strong, clear & she sounds great. She introduces
Michael Bolton who sings as he comes down from the other side of the stage
to stand next to Lucy. During the entire song, Michael seems more intent on
singing his song than relating to Lucy & allowing it to actually be a duet.
When they sing together he sings over her, which I found frustrating. We are
here to listen to Lucy first & foremost. If she sings with someone we like,
that is just a bonus. The song is perfectly within Lucy's vocal range &
apart from some slight nervousness, she is great & manages to hold her own
when not being overpowered by Michael. I feel so relieved for her when it
is over and so elated at how well she sang.

The judges are all very positive toward Lucy, saying how brave she is to be
the first one out & it was a great song for her to start with. Well, I think
they were all positive, as after many viewings, I STILL can't work out what
Little Richard said - I thought Lucy hid her confusion very well too!

Lucy looks amazing. In her stiletto heals she looks like she's 10 foot tall.
She is very slim but still holds her curves, her legs look amazing, like
they go on forever & all of this is covered in a golden tan. Her hair is
long, curly & blonde, her make up has been done to accentuate those
incredible eyes & her above knee blue, backless, halter neck dress clings in
all the right spots. Just beautiful!!