Lucy Lawless in
The Simpsons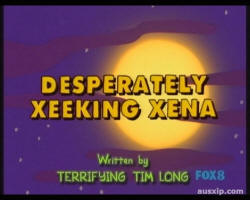 "Desperately Xeeking Xena"
Treehouse of Horror X
Original Airdate: 31 October 1999

Click here to download video clip
---
Please Note:
Do not repost articles, images, photos, scans and commentary posted on AUSXIP Lucy Lawless. Use an excerpt and a link back. It takes alot of time
and effort to add new content to the site. If you wish to add a scan from this site, please contact me; don't just take it.
Please link back to lucylawless.net as a courtesy. Practice good net etiquette.
Lucy Lawless Images - Main Index
AUSXIP Spartacus: Blood and Sand
AUSXIP Lucy Lawless - Spartacus
Australian Xena Information Page