Boogeyman Movie Articles

Articles - Magazines | Newspapers
Magazines & Other Media Sources

Entertainment Weekly - 5 February 2005 - 'Man Alive
''Boogeyman'' will scare up the top spot. It's February: time for big opening weekends for horror films

Fangoria Magazine - January 2005 Fear The Boogeyman. He's out to prove that a movie about childhood terrors revisted can be scary and he's got Sam Raim backing him up.


Hollywood Variety Magazine had a brief mention of Boogeyman
Screen Gems' coming attractions include the horror sequel "Resident Evil: Apocalypse"; "Cave," starring Cole Hauser, Chestnut and Piper Perabo; the Sam Raimi-produced "Boogeyman," a follow-up to the slick monster picture "Underworld....


Teletext Star Talk - 25 June 2004. Lucy talks about working on Eurotrip, the upcoming Boogeyman and the Xena Movie

The Hollywood Reporter -24 February 2004 on the merits of shooting films in New Zealand with new tax incentives and quotes from Rob about Boogeyman and why New Zealand

LesbiaNation - 31 March 2004
We recently caught up with former "Xena" star Lucy Lawless making the pilot season rounds in Los Angeles, what she calls "the roller coaster of hell." The public hasn't seen much of Lawless since her brief guest role on "The X-Files," her animated appearance on "The Simpsons" (and that tiny walk-on in Spiderman), but now she's back and ready for action. With two new film appearances under her belt, possible "negotiations" in the works for a TV show, and the new Xena Season Three DVD set on the shelves - she's one busy lady, and loving every crazy minute of it. Read the entire interview

On Film Magazine - 1 August 2003 - Xena Verses Boogeyman. The short article details why Rob decided to film Boogeyman in NZ

The Hollywood Reporter - 24 February 2004 - 'Boogeyman': case study.(between the lines) - article about filming Boogeyman in New Zealand, Lucy, quotes by Rob about the movie and whether it's feasible to shoot another series in NZ.

Torino Cronaca Newspaper 22 July 2005 Brief article about Boogeyman in Italy. Article is in Italian. No Translation available at this time.

New Zealand Herald 8 February 2005 Scarily good for Boogeyman

BoxOffice Prophets over the weekend as it went up against the superbowl.
TVNZ.com - 7 February 2005 - Top Box Office Draw Has NZ Connection. A low budget thriller shot in New Zealand has set a new record for a film opening on Super Bowl weekend in the US. Boogeyman, starring Kiwi actress Lucy Lawless and produced by her husband Rob Tapert, bought in an estimated $27.5 million in its opening weekend.
Added review of Boogeyman from Filmstew.com
Boogeyman - You know what's really scary? Raving about a horror film to your professional colleagues and then watching its aggregate RottenTomatoes.com rating tumble into the single digits.
Added Lucy mention/excerpt from San Francisco Chronicle - 5 February 2005
Cheap thrills overcome big holes in 'Boogeyman'
Lucy "Xena: Warrior Princess" Lawless isn't as distracting as one might think playing Jensen's mother, but most of the other actors in this film are either forgettable or memorably bad. Then again, most people don't go to movies called "Boogeyman" for the acting, or the realism. They go for the Boogeyman.
Read review
Added another Lucy mention - for the record Lucy is 37 in March <g>
Review from Richmond.com - 4 February 2005
Then there's his mom, who's played by "Xena" star Lucy Lawless. Lawless only makes it five minutes into the movies before dropping dead. And for some reason, even though she couldn't be older than 50 years old, she's made up to look like she's 143. Must be some sort of reverse Botox or something

Dominion Newspaper 3 February 2005 Horror Role for Lawless. Kiwi actor Lucy Lawless, who fought monsters from ancient myth in Xena: Warrior Princess, has to deal with the modern kind in a movie that opens in the United States today.

Added Lucy mention from Boogeyman review on Tahoe Daily Tribune - 4 February 2005
...And his mother? How can you have a scary movie when your mother is Xena: Warrior Princess? Lucy Lawless (who still looks great) plays his, mom who worries too much what it is dad is reading as bedtime fodder nightly to their son.


The Washington Times - 3 February 2005
Boogeyman (2005) (PG-13) — A horror thriller made under the production auspices of Sam Raimi, with Barry Watson as a young man obliged to return home and rummage around the traumatizing Gothic house where he dwelled as a lad. He clings to a childhood impression that his father was abducted by an authentic boogeyman.


Riverfront Times - 2 February 2005
Boogeyman Stephen T. Kay. (PG-13) Falling smack-dab in the middle of film's darkest season (that'd be the time between Christmas and the Oscars) is this horror flick from Sam Raimi's Ghost House Pictures production company. A young man (Barry Watson) who experienced terrible things in his bedroom as a child returns home to face his fears -- and to find out whether the terror was a figment of his imagination. Hopefully this one will be truly spooky, unlike the recent (and abysmal) Hide and Seek. Opens Friday, February 4, at multiple locations. NR


Relish.com February 3, 2005

Scared to death
Hollywood's infatuation with horror keeps on truckin' - and screamin' - with the arrival of Boogeyman, a new shocker from director Stephen Kay - whose 2000 remake of Get Carter was plenty scary itself.

Barry Watson (pictured) stars as Tim Jensen, a young man still haunted by childhood traumas. In an effort to exorcise his personal demons, Tim returns to his boyhood home to determine once and for all whether his fretful memories were merely figments of his imagination.

Instead, he finds something else that may require exorcising.

Emily Deschanel, Skye McCole Bartusiak and Lucy Lawless (Xena herself) round out the cast of this winter chiller.

Rated PG-13 Opens Friday


Sci Fi Wire 3 February 2005 Boogeyman: To Be Or Not? Rob Tapert, producer of the upcoming horror movie Boogeyman, told SCI FI Wire that his toughest decision was deciding when to show the title creature.


The Post Standard - 30 January 2005
'Boogeyman'
Although Sam Raimi is listed as one of the producers, hopes are dim that "Boogeyman" will be a box-office winner. The movie opens nationwide on Friday. The horror tale casts Barry Watson as a young man who must return to his childhood home to confront the terrifying visions that have haunted him all his life. Stephen Kay directs the chiller from the laptops of writers Eric Kripke, Juliet Snowden and Stiles White.

The Toronto Sun - 21 November 2003 - Lawless and lovin' it. Interview with Lucy about the end of Tarzan, her love for hockey and Warrior Women. Also scan of Lucy with her shorter haircut.


The Herald Sun (Australia) has an article about the Australian actress/singer Delta Goodrin who is suffering from Hodgkis Disease. The article is about Barry Watson and how he battled the same disease. Barry is appearing in Boogeyman. The article has a mention of the movie and Lucy. Click here to read the article

The following is from The Dallas Voice Community Newspaper - July 2003
Xena battles The Boogeyman
Everyone's favorite warrior princess may finally be meeting a foe she can't beat: the boogeyman himself. Xena's Lucy Lawless has signed on to co-star in The Boogeyman, a thriller currently shooting in her home country of New Zealand. Along with Lawless, 7th Heaven's Barry Watson stars as a young man returning to his childhood home to try to overcome traumatic, boogeyman-inspired events that took place in his bedroom. Not to be confused with the schlocky '80s series of Boogeyman movies, this fright-fest comes from Sam Raimi's (Spider-Man) new horror production company, Ghost House. Raimi used to executive produce Xena, and he's also got a horror-picture pedigree — he was responsible for such scary movies as The Evil Dead and Darkman.

The Western Leader (NZ newspaper) - 24 July 2003. Details the work being done on the "Boogeyman" set and the house that will be used.

NZ Sunday News - Monster Role for Xena Star - 20 July 2003 - News about Lucy's role in the new Rob Tapert/Sam Raimi movie "Boogeyman"

Tribune News Service - 16 July 2003 - `Boogeyman' filming in New Zealand.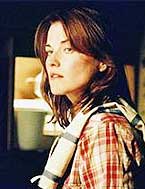 Lucy Lawless
in Boogeyman