Screencrush has reported that Spartacus will now be shown on US giant tv and movie streaming service Netflix from Feb 1, 2015

'Spartacus' Complete Series (2010—2013): Starring Andy Whitfield, Lucy Lawless, and Manu Bennett. Watch the story of history's greatest gladiator unfold with graphic violence and explicit sex. This is Spartacus.

LUCY LAWLESS IS LUCRETIA!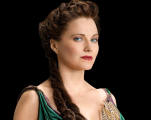 Lucretia, Domina of Batiatus' Ludus in Capua, beloved wife of Quintas Batiatus.
Season 1 saw Lucretia as the woman who loved and adored her husband Batiatus. She desperately wanted to give her husband a child by any means necessary. The Prequel saw a young Lucretia learning the art of seduction and manipulation and Season 2 will see Lucretia as the grieving widow, alone in Roman society without of her beloved Batiatus. Spartacus and Crixus ended her marriage and killed her unborn child. Without Batiatus by her side, her status in Roman society has evaporated. Lucretia is out for vengeance on those that killer her husband, killed her child and left her for dead.
For more info about Lucy as Lucretia go to the AUSXIP Lucy Lawless Spartacus subsite