Goodness this morning was a frenetic bidding war over Lucy Lawless and her art. It was fun watching this unfold (not so much fun for the bidders).

Dinner With Lucy Lawless


The bidding war was frenzied as the three bidders went head to head for the prize of dinner with Lucy Lawless. What made it more nerve wracking for the bidders was that the CharityBuzz reset the timer back to 9 minutes.

Every time bid, it was reset which must have driven the bidders totally crazy. When the dust settled and the winner emerged $12,500 was the winning bid for a dinner with Lucy Lawless. Congratulations to JudeH for winning the dinner!
You're My Best Friend, Photographic Prints by Michael Parekowhai

You're My Best Friend, Photographic Prints by Michael Parekowhai which Lucy bought with her first Xena pay packet didn't quite have the last frenetic bidding as the dinner but it jumped from the overnight bid of $10,500 and it jumped to $22,000 where it eventually sold.
Congratulations to Nilgiri for winning the artwork!
At the end of the day both bidders won but Greenpeace was the biggest winner. Lucy generated $34,500 for the Rainbow Warrior III. Greenpeace sent out a news update yesterday that they were on target to get $90,000 but I suspect that is going to be much higher now.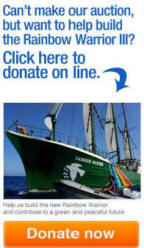 The legacy of the Rainbow Warrior is important to New Zealanders. When the original Warrior was bombed 25 years ago, in Auckland's harbour, Kiwis rallied to support Greenpeace. In 1989 we launched the Rainbow Warrior II, and now we urgently need to replace her.
As you're probably aware, the New Zealand office hopes to raise $400,000 to fund the new Warrior's "Rapid Response Centre". We've made some great progress towards that goal, raising approximately $150,000 so far. Hundreds of supporters have donated online at www.rainbow-warrior.org.nz and many more have sent donations in through the mail.
Our fundraising auction in Auckland on October 20 was also a great success. Greenpeace supporters, spanning several generations, gathered at Webb's auction house in Newmarket to celebrate the achievements of the Rainbow Warrior and to help write the next chapter in her extraordinary story. There is not space to thank everyone individually, but we'd like to acknowledge the generous Kiwi artists, businesses and supporters who donated items, time and effort to help make this event the success it was.
We still have a funding shortfall, and just eleven months to reach our total. With the perilous state of our planet, the Earth needs the Warrior more than ever before and we're optimistic that our supporters around the country will dig deep to help us get over the line.
Please help spread the word and ensure we launch the Rainbow Warrior III. Donations can be made at www.rainbow-warrior.org.nz, by post, or by phoning 0800 22 33 44.